Adrenal abnormalities:
Contact: Endocrinology [Specify contact]
Recommend endocrinology referral for all patients with incidentally found adrenal abnormalities on the CT chest.
For better use of the patient's time and resources, it would be recommended for the following tests to be obtained prior to the endocrinology appointment.


Benign adenomas usually are round, homogeneous, < 4 cm, low attenuation (< 10 HU), rapid washout > 50%. Pheochromocytomas have increased attenuation (>20HU), increased mass vascularity, delayed washout (<50%), variable in size. Malignancy is irregular, inhomogeneous, usually  >4cm, a delayed washout. The metastatic disease usually is irregular, bilateral.
Thyroid nodules:
Contact: Endocrinology [Specify contact]
Definition: A thyroid nodule is a discrete lesion that is clearly distinct from the surrounding thyroid parenchyma.  Therefore it is a radiographic definition most of the time.  The prevalence of thyroid nodules by palpation is 1-5% depending on the size and the location of the nodule in the thyroid gland.  The problem: The prevalence of incidental thyroid nodules in the general population seems to be high, approximately 10% to 40% in ultrasonography (US) studies, a prevalence that is similar to the prevalence of autopsy series. Most of these lesions are benign; however, the risk of malignancy ranges from 1.5% to 17% in incidentally detected nodules (ITN). (1)
ITNs are seen in up to 25% of contrast-enhanced chest CT scans. On the other hand, CT scans are responsible for the detection of 56–78% of ITN that undergo workup.  Patients with ITN found on imaging generally have smaller thyroid nodules, are older, and/or have significant comorbidities.  The ideal approach would be to diagnose cancers that are likely to be of clinical significance while avoiding unnecessary tests and surgery in patients with benign nodules. (2)
CT detects only 53% of thyroid nodules detected by the US. Compared to the US, CT correctly identifies the dominant nodule but misses multinodular in 30% of patients. CT may have a false positive rate for lesions of 4.3%. (3) The entire gland may not have been evaluated by CT.  On chest CT, the patient's arms are positioned over the head, which often results in beam hardening artifact through the thyroid as a result of high-density IV contrast material in the subclavian veins. The clavicle can also cause artifacts through the thyroid gland. These artifacts can obscure nodules or create pseudolesions.  In addition, small nodules would be difficult to characterize on CT unless thin collimation and multiplanar reconstruction were available.  Routine chest CT is usually performed with 3- to 5-mm slice thickness, not ideal for characterizing nodules less than 1 cm in size. (4) 
Detailed clinical correlation is also important to identify risk factors such as age, history of head and neck radiation, family history of thyroid cancer or other cancer syndromes that include thyroid cancer, and cervical adenopathy. The lung parenchyma is the most common location for metastatic thyroid cancer. Also, the thyroid gland may be the site of metastases from different solid malignancies including lung cancer. The prevalence of benign thyroid nodules increases with increasing patient age, so the ratio of malignant to benign thyroid nodules may be higher in young patients. (2) In one study, there was a higher rate of malignancy in patients age <35 years who had an ITN detected on CT. (3)
Suggested Flowchart for the Management of Thyroid Nodules Incidentally Detected on CT*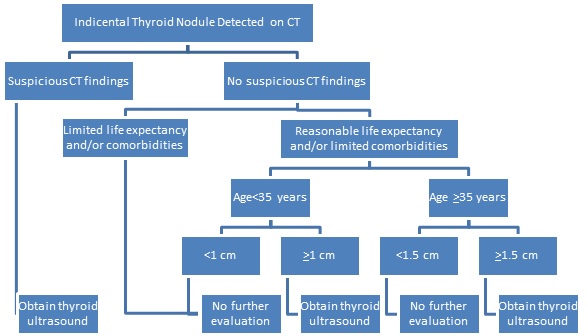 *Modified from reference 2
Thoracic Aortic Dilation/Aneurysm :
Direct referral via staff message to Dr. X, MD [Cardiovascular medicine], should be placed for dilatation/aneurysm of 4 cm or greater. He will review the patient's images and schedule an appointment accordingly.
CAC:
Contact: Dr.X [Cardiology]
Place a cardiology consult order and send a message to schedulers to arrange for any CAC reported as moderate or severe CAC.
Pericardial Effusion: per Dr. X [Cardiology] the size of pericardial effusion is often overestimated on a CT scan, therefore ECHO is best practice
Mild – send note to PCP regarding the findings
Moderate/Severe:
1. Order ECHO
2. If referral needed then contact Dr. X and place an order for cardiology consult and send a message to schedulers.
Interstitial Lung Abnormalities
If judged to require an S modifier by radiology have a pulmonary/ ILD team member review the imaging and determine the need for referral to their team.
Emphysema
If moderate or severe on imaging and the patient does not have a pulmonologist recommend pulmonary referral.