Before the Screening—Identifying Eligibility Criteria and Providing Pre-Screening Counseling
Determining who to screen may be one of the first decisions you make after deciding to start an LCS program. CMS and USPSTF upper age eligibility limits are different and will need to be considered in the eligibility process. How does your program consider those recommendations to screen individuals beyond CMS and USPSTF eligibility? Shared decision making is required by CMS. What are good ways to go about making sure patients are informed of the risks and benefits? These questions and more need to be answered up front when setting up your program and are addressed in our survey of LCS experts below.
Deciding Who to Screen
AM: The steering committee must determine if medically inoperable patients will be considered for screening. In our program, individuals with a life expectancy of greater than two years are offered LCS. In clinical practice, determining who is or is not medically fit for lobectomy or segmental resection is often debated amongst even the specialty care team and not something readily assessed by primary care; therefore most programs will encounter this scenario. It is important to have high-level program agreement on how to manage these individuals so that patients can be protected from unnecessary procedures and treatments.
---
PM/RSW/KS/CCT: Should medically inoperable patients be considered for screening? Would you consider SBRT for medically inoperable patients? Would you consider screening patients who are unable to tolerate a diagnostic biopsy? These are very difficult questions to provide evidence-based answers. Much of our understanding of the favorable balance of benefit to harms was provided by the results of the National Lung Screening Trial. The population enrolled in this trial was seen to be somewhat healthier, with a higher education level, and lower proportion of active smokers then the general population of eligible patients. Survival rates for those participating in the trial were much higher than population estimates for this group (95 percent vs. 89 percent five-year survival). This is largely felt to be a result of a healthy patient bias, reflecting the characteristics of those most likely to participate in clinical trials. Exclusion criteria for the NLST were not prohibitive—treatment for cancer within the past five years (other than non-melanoma skin cancer and carcinoma in situ), a history of lung cancer, a history of removal of any portion of the lung, the requirement for home oxygen supplementation, metallic implants or devices in the chest or back, unexplained weight loss of more than 15 pounds in the past 12 months, recent hemoptysis, pneumonia treated with antibiotics in the 12 weeks prior to assessment, and a chest CT examination in the 18 months prior to assessment. With these exclusion criteria in place, 347 patients were diagnosed with stage I lung cancer during the baseline and incident screening rounds of the NLST. Of these 347, only seven (2.0 percent) were treated with radiation alone, suggesting the population was largely capable of tolerating curative intent lung resection. With the understanding that the benefit of LCS has largely been shown in a population capable of tolerating curative intent resection, it is difficult to extrapolate these findings to at-risk populations who are not well enough to tolerate resection of a screen detected early stage cancer. The at-risk group with more health issues than present in the NLST population may be at higher risk for complications from the evaluation of lung nodules and treatment of early stage cancer. Survival after curative intent treatment may be lower, as may all-cause survival. Despite these concerns, it is very difficult to determine who is too ill to benefit from screening, particularly at the time of the screening visit when testing required to make this determination may not be available. Criteria similar to those used in the NLST (above) are reasonable to apply. Some of the programs allow SBRT eligible patients to enroll despite these concerns. Those who are not well enough to even tolerate a diagnostic biopsy should be excluded from screening. Collaborative discussions with relevant specialists connected to your program (e.g., pulmonary, cardiology) about potential exclusion criteria based on comorbidities is advised. Additional research in this field is required.
---
DTC: It is difficult to determine who is medically inoperable without consultation from an American Board of Thoracic Surgery eligible/certified general thoracic surgeon. Many patients who might appear medically inoperable may actually be eligible for potentially curative surgery via minimally invasive approaches, sub-lobar resection, or resection of upper lobe tumors in the setting of heterogeneous upper zone predominant emphysema. In addition, patients who are truly high-risk for surgery may have potential for cure after treatment with stereotactic body radiotherapy (SBRT). Patients who are marginal performance status but found to have a worrisome Lung-RADS™ score after CT screening are discussed in our multidisciplinary tumor board.
---
CCT: Yes, any patient who could be eligible for any therapy would be offered screening. Some patients will reveal "up front" that they would not pursue therapy but wish to know if they could have a lung cancer. Often, once they are diagnosed with a lung cancer and meet with specialists involved with treating lung cancer, they do decide to proceed with therapy. Many patients don't have the understanding of modern therapy for cancer or that we don't give chemotherapy for stage 1 lung cancer. These misconceptions can impact their initial response to screening and should be considered in the shared decision-making visit along with the medical comorbidities that would preclude screening.
---
AR: We try to avoid this by trying to increase education among referring sources.
---
CF: We follow same philosophy as above (CCT). I would also add that some patients who do not wish to pursue treatment still want to be screened because they feel the information provided has value to them. Additionally, as noted above and depending on the results, someone who initially does not want treatment might change their mind after the cancer is diagnosed and treatment options are discussed. Given multiple non-surgical options for treatment of cancer, individuals are not denied screening based on medically inoperability.
EMH/CCT: Yes, if their ordering provider believes their prior malignancy won't limit their lifespan such that screening becomes meaningless for that individual. Patients with metastatic disease are, however, excluded from screening.
---
BM/SR: We consider known metastatic disease and lung cancer diagnosis within the preceding five years exclusion criteria for our program. Patients with known or prior malignancies not meeting these exclusion criteria can be enrolled. In fact, a history of smoking-related cancer(s) is considered an additional risk factor in NCCN Group 2 high-risk patients.
---
CF: We evaluate on a case-by-case basis but agree a program should have a set policy. We use a five-year disease-free cutoff.
---
GM: It is important to have a baseline definition of screening and surveillance for your prior lung cancer patients.
---
DTC: As part of the ordering clinician education process, ordering providers are advised that patients who have had prior malignancy within five years and would benefit from cancer survivorship surveillance of previous malignancy with a diagnostic scan that will cover the chest, should not undergo LCS with low-dose CT scan.
---
AR: Patients need to be five-year disease-free, except for basal cell skin cancer.
EMH: If the patient had a chest CT within the last 12 months, the answer is no. We would take the opportunity to direct them to return for initial screening 12 months after the prior chest CT (as appropriate), or into the correct short-term follow-up or further diagnostic evaluation (as needed), based on that CT exam result.
---
BM/SR/CF/DTC: Among other reasons, a patient is considered symptomatic if (s) he is currently being followed for lung nodules. If the recent CT shows new nodules or recommends follow-up of the nodules, the patient would need to wait until that follow-up is resolved before entering a screening program. If the recent CT shows resolution/stability, the patient can be enrolled and his/her baseline screening exam should be one year from the recent CT.
---
CCT: If the patient has had a diagnostic CT within the past 12 months that would essentially count as a baseline study and you would delay starting a low-dose CT screening study for 12 months.
---
AR: Yes, but after 12 months.
---
CF: We will enroll with first LCT 12 months after diagnostic CT if no other indication for follow up diagnostic CT identified on current diagnostic CT. We re-confirm eligibility for LDCT at 12 months, prior to scheduling.
BM/SR/DTC/CCT/CF: Patients who become symptomatic should undergo a diagnostic evaluation and have any upcoming screening exam delayed until resolution of the symptoms. If any interval CTs are done as part of the work up for those symptoms, these should be considered when determining when the next screening exam should be. They should not be discharged from the program unless diagnosed with lung cancer (or something else makes them ineligible).
Establishing Systems to Offer Screening to the Right People at the Right Time—Eligibility
PM/RSW/KS/CCT: Strategies should be developed to identify patients who meet the program's screening criteria. The most important strategy is education of the community of providers who will refer patients for screening, as indicated in Section 3G. The primary care champion for the program can provide guidance about the most effective means of communication with the primary care group. Similar education and marketing efforts targeting potentially eligible patient populations should also be considered. Patient education tools in the form of pamphlets, call-lines, internet resources, and letters can be considered in conjunction with marketing experts.
The EHR can be useful in creating best practice advisories for appropriate patients for LCS. In our EHR, we have created a best practice advisory (BPA), a pop-up alert for patients meeting criteria, and embedded the appropriate order for an LCS exam in the order window. Alternatively, if a provider orders an LCS exam on their own, criteria for inclusion can be funneled into a hard stop, as well as smoking cessation and shared decision-making criteria answered prior to the system allowing the order. EHRs could also provide the means for a program to mine patient data with the goal of identifying potentially eligible patients. The quality of the smoking history within the EHR impacts the success of these approaches. Order sets can be built to include reminders about the accepted screening criteria within them.
---
AM: High-risk individuals can be identified through primary care offices. We began educating primary care providers through a campaign consisting of face-to-face meetings with PowerPoint presentations describing the characteristics of patients who are at high-risk for lung cancer. During these visits, we provided office materials that could be used by medical assistants to identify the high-risk population as well as shared decision-making tools to assist in performing these conversations. High-risk patients are now identified through an EHR best practice alert.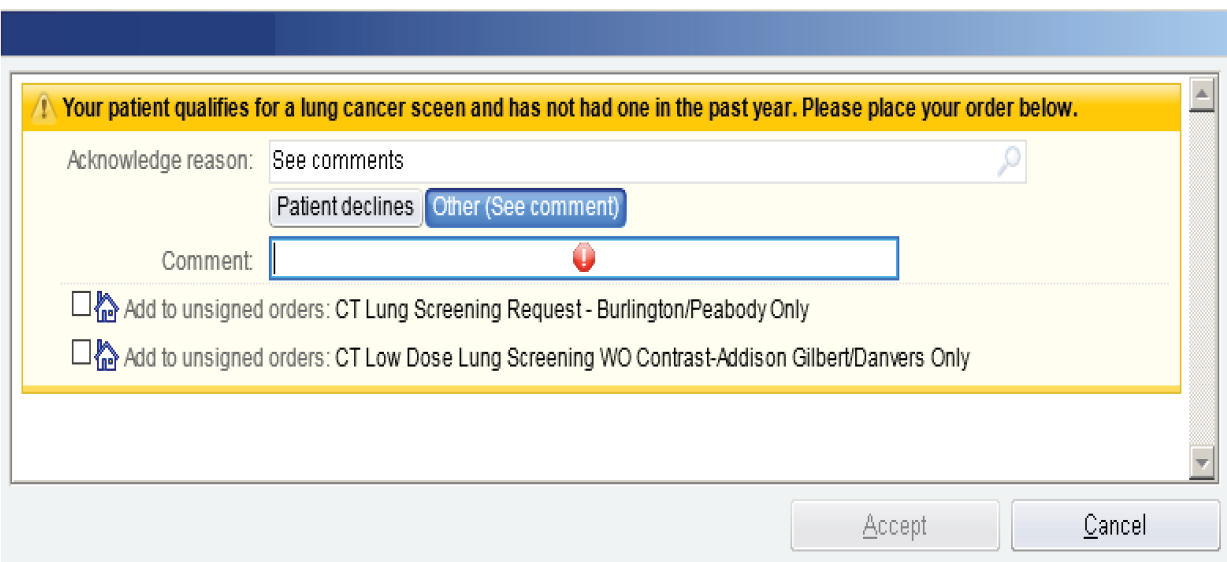 ---
CF: The screening program regularly educates all our providers, with a special emphasis on PCPs, regarding criteria for eligibility, components of shared decision making and smoking cessation counseling. We primarily rely on our PCPs and pulmonary providers to identify eligible patients, perform shared decision-making and enroll appropriate patients in the screening program. Administration assists PCPs with identifying potentially eligible patients in their practice with whom screening should be addressed by pulling smoking history data from our EHR. The screening program confirms eligibility before the CT is scheduled.
---
CCT: Education and inclusion of LCS for eligible patients are keys to finding and enrolling patients. After forming our multi-disciplinary team, we developed educational packets for primary care providers. These were hand delivered to every office and the team nurse navigator provides in-person outreach to primary care practices. Our team presented at medical staff meetings, through primary care meetings, in medical grand rounds, and through our nurse navigator visiting offices. Outreach to the community with pocket cards in key locations through the facility and visits by our navigator to leadership meetings, health fairs, and community organizations were other methods. We worked with our EHR analysts to develop a best practice advisory that would be included in the key area for health care maintenance and pop up when a patient was eligible for screening. Inclusion criteria are included in this resource as is shared decision-making information.
ABK/KK/DKM/CCT:
Identify eligible patients via electronic medical record.

EHR best practice advisory alert to physician that patient may be eligible for screening. These can be included in the area of health maintenance frequented by primary care providers as well as pop ups for patients meeting criteria via structured data fields by age and smoking history.
Note to physician in patient's chart to address at next visit.
Send letter or email to patient with information on LCS from physician office.
Reach out to community programs and those populations at high-risk for lung cancer.
Administer tobacco use survey by intake office to identify patients who might qualify for screening or tobacco cessation counseling.
Provide information on LCS to patients in PFT labs, emergency rooms, radiology, urgent care, pulmonary, cardiology, pulmonary rehab, and primary care offices.
---
KS:
Schedule SDM counseling visit and screening CT appointment for same day to enhance adherence.
Hospital emergency room smoking history collection trigger a discussion of LCS for eligible patients.
Include discussion about LCS during hospital in-patient smoking cessation counseling.
---
KK/DKM/CCT:
Provide a fact sheet of eligibility criteria for physicians and patients for use at point of care (either print or electronic medium)—include a range of costs for screening.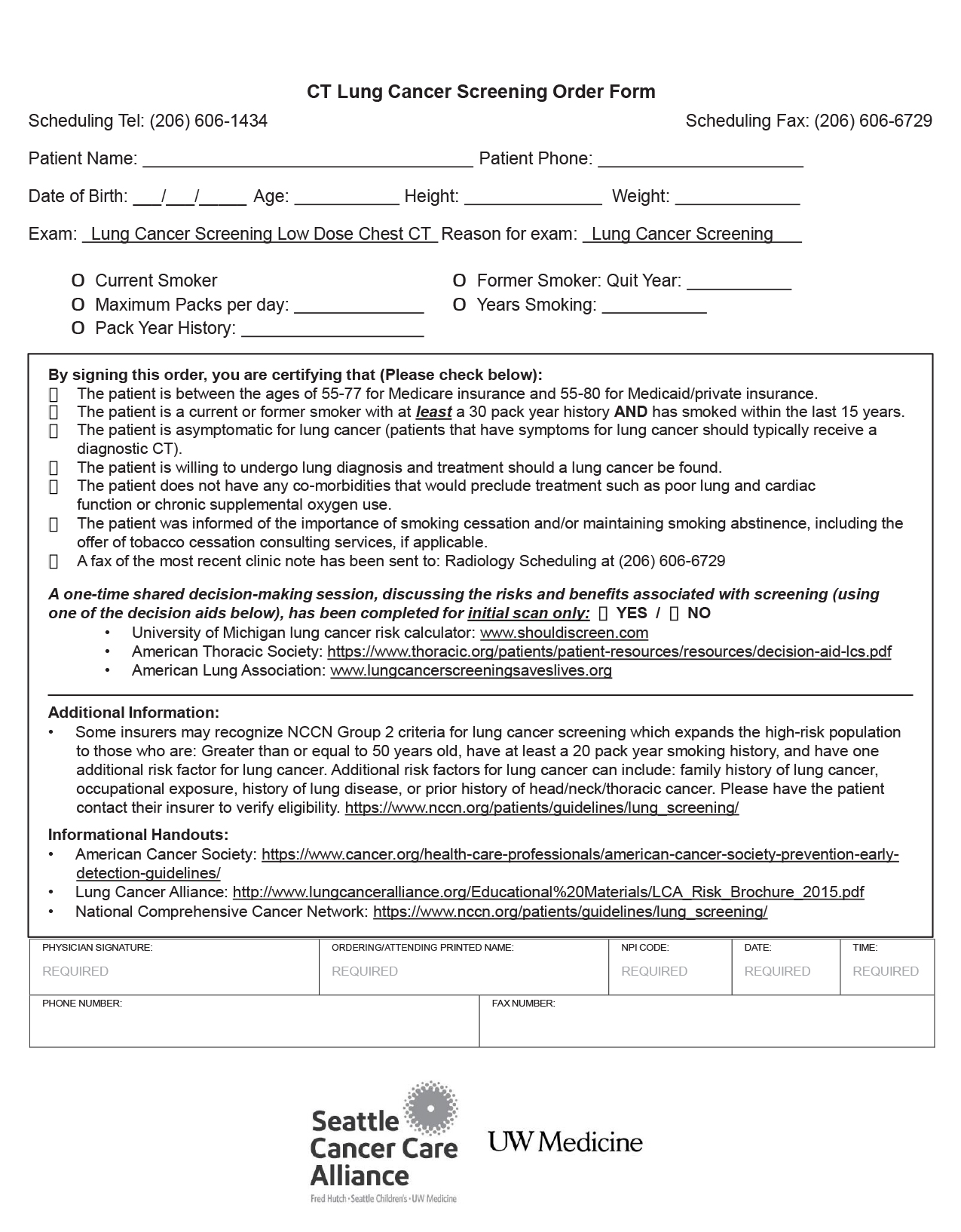 ---
CF:
Educating PCP about at risk population and the need to discuss lung cancer screening with appropriate patients.
LCS program brochures.
AM: Yes, we rely on primary care providers to identify eligible patients during their office visit, but our CT schedulers also speak with the patients to verify their high-risk criteria. Demographic data is entered into a data tracking system by the program navigators. Navigators call patients prior to the exam to determine if they remain asymptomatic and answer questions prior to screening.
---
GM: We have a centralized program. Patients are referred for LCS to the program only in order to meet compliance for eligibility criteria, shared decision making, follow-up, and to communicate results.
---
KLS: Referring providers should be aware of the USPSTF guidelines and only order/ refer patients who meet criteria. We include the criteria in the electronic health record (EHR) CT order set that is visible to clinicians while ordering the LCS CT. LCS program or radiology staff members then validate the criteria on the day of the shared decision-making visit and CT scan. The shared decision-making discussion and the CT scan order are done in the same visit.
---
MKG: Kaiser Permanente Southern California uses a standardized order set for an LCS CT that includes mandatory yes/no questions to document that the patient meets eligibility criteria for age, smoking history and is asymptomatic.
---
CF: All LCS CTs are scheduled through the LCS program. The LCS program navigator confirms eligibility before the CT is scheduled.
---
CCT: A best practice advisory prompts the ordering provider based on eligibility criteria as documented in the EHR. To order an LCS CT, there are mandatory yes/ no questions that must be answered regarding shared decision making and smoking cessation counseling. Any provider can order an LCS study; thus, this is a decentralized access program. However, centrally, a radiology technician screens all orders for eligibility and will cancel orders that do not meet criteria or change the order to a diagnostic CT after conferring with the ordering provider. This mechanism assists with ensuring that only eligible patients are being screened and that insurance will reimburse the study.
AM: This situation is rarely encountered when an educated and engaged primary care base is involved with your program. If individuals outside the program's defined high-risk criteria are insistent on a CT screen, they must pay out-of-pocket for service and are not tracked or entered into the LCS program.
---
CCT: This is rare, but when it does occur the results are tracked in our program.
---
AR: The scan is done as a screen with lower cost but is not part of the program. Follow up is dependent on the PCP and patient.
---
CAP: We are currently screening participants who are covered by Medicare/Medicaid and those who meet the expanded criteria. For those not meeting the Medicare/ Medicaid requirements, a low-dose screening CT scan is offered at $150.
Deciding Whether to Screen—Shared Decision-Making
AM: Primary care provides SDM and smoking cessation interventions during annual office visits using decisions aids supplied by the LCS program. This is the customary time for prevention interventions to be discussed.
---
KS: SDM and smoking cessation counseling are both performed by the radiology nurse practitioner immediately prior to the LCS CT unless previously documented by the requesting provider. Our order set defaults to a request that includes the SDM visit and LCS CT scan; however, clinicians may choose to only order the CT exam if they would prefer to perform the SDM visit themselves.
---
DTC: Built into our electronic health record order is a hard stop attestation requirement for SDM. The ordering physician has to select that they performed SDM before they can complete the order. The order also has a link to a PDF of our program's SDM tool kit that can be printed out and assist with SDM during the point of care.
---
CL: In the pulmonary clinic the SDM visit is often synchronized with the placement of the order for the next LCS scan. For example, the patient presents to the clinic to review the actual screening CT scan and then SDM is ongoing to determine continuation for next screening scan with an order placed at that time.
---
CCT: In every office a best practice advisory will notify the provider of their patient's eligibility for LCS. The EHR will pop up with structured fields regarding shared decision-making and smoking cessation counseling prior to an order for LCS CT order being accepted. In the nodule program, appointments with patients are paired with review of the CT finding such that shared decision-making and smoking cessation counseling occur prior to ordering the next study.
ABK/RSW/KS/CCT: We heard from our physicians that time, lack of training, and lack of organization support and appropriate decision aids were barriers to SDM as we were developing our program. AHRQ identified common themes on barriers to shared decision making for providers:22
Time
Already do it
Not applicable—patients don't want it
Lack of organizational support
Lack of decision aids
ABK: We have found fear of lung cancer death and stigma to be significant barriers to SDM for patients. AHRQ literature review identified common themes on barriers to shared decision making for patients to include the following:22
Not aware of option for shared decision making
Health literacy
Cultural Issues
Demographic or geographic issues
Rural
Advanced age
Language
Patients need knowledge AND power.23 Knowledge about:
Disease conditions and outcomes
Options
Personal values and preferences
Power
Perceived influence on decision making encounter, e.g., be invited to participate
Confidence in own knowledge
Self-efficacy in using shared decision-making skills
African Americans face additional challenges:
Healthcare provider implicit bias24
Double stigma—smoking and race
Racial differences trust and perceptions physician communication25
Lack of consideration of racial differences in design and validation of decision aids
Higher lung cancer mortality in African American males (1.2X White males)
Higher risk lung cancer despite not meeting LCS criteria
Lower health literacy
EJ: The National Lung Screening Trial (NLST) found a significant reduction in mortality among high-risk patients screened annually LDCT. A sub-group analysis of this trial by Tanner et al. showed that while patients in the screening arm experienced lower all-cause and lung-cancer associated mortality, this effect was even larger in African American participants.26 However, the availability of LCS among minority and socioeconomically disadvantaged populations is limited. National medical associations have called for the implementation of LCS services in minority communities; however, the realization of these programs has been challenging. We have identified four barriers to LCS in underserved minority populations along with strategies to overcome these obstacles. The following recommendations can be used for any racial/ethnic group, African Americans are highlighted as this is the population that our clinic treats.
A. Access to screening: The disparity in lung cancer morbidity and mortality with in the African American community is well described.27,28 LCS has the potential to worsen this disparity if African Americans are not screened at the same rates as other high-risk groups. One of the major obstacles to successful LCS for minority patients is lack of access. The Ohio State University has two full service screening locations, one of which is located in an area that densely populated with minority patients as well as the medically underserved of all races. This location not only provides access to LCS services but also serves as an access point to other medical services for underserved populations.

Develop access points for screening underserved patient.
Screening within rural communities is also challenging. The future use of mobile lung CT units have been used in some areas and can provide cancer screening to rural communities, eliminating the transportation, financial, and resource barriers.

B. Patient and Provider identification: African-American patients are less likely to be screened for lung cancer compared with non-African American patients.29 Many patients and providers are not aware of current LCS eligibility guidelines. Educational outreach to primary care providers (PCP) with a goal of assessing baseline understanding of LCS.

Educational outreach to primary care providers (PCP) with a goal of assessing baseline understanding of LCS.
Explain LCS rationale, guidelines and provide PCP offices with printed materials.
In centralized programs ensure that PCPs know that the LCS program will follow positive screens.
Identification of high-traffic locations: grocery stores, churches, barbershops, and beauty salons.
Develop local relationships and provide information to organizations that empower minority communities such as the NAACP and National Urban League.

C. Relationship with health professionals: An effective strategy to enhance minority patient's participation in LCS is matching patients and healthcare provider's ethnic and cultural backgrounds. Minority providers are more successful in engaging minority patients and building lasting relationships, while fostering a therapeutic alliance between patients and providers.30

Recruit African-American physicians, nurses and medical assistants.
Invest in the patient's overall health.
Openly discuss mistrust of traditional medicine, fear of cancer and fatalism regarding cancer.
Clearly explain how early detection and smoking cessation can save lives.
Use personal testimonies from minority patients who were screened and have survived lung cancer.

D. Community engagement: Community engaged programming may be more acceptable to communities that are historically distrustful of researchers or academic institutions.

Recruit lay health educators from the community.
Develop local relationships and provide information to organizations that empower minority communities such as the NAACP and National Urban League.
Face-to-face patient education events give patients an opportunity to ask questions, meet with LCS staff and build relationships with care providers.
CCT: In our program the nurse navigator provides outreach to a number of community programs and health fairs.
CCT: CMS specifically outlines the requirements for shared decision-making visit and the elements within that discussion that meet the definition.
---
CF: Must include all of the following elements:
Determination of beneficiary eligibility including age, absence of signs or symptoms of lung cancer, a specific calculation of cigarette smoking pack-years; and if a former smoker, the number of years since quitting.
Shared decision-making, including the use of one or more decision aids, to include benefits and harms of screening, follow-up diagnostic testing, over-diagnosis, false positive rate, and total radiation exposure.
Counseling on the importance of adherence to annual lung cancer LDCT screening, impact of co-morbidities, and ability or willingness to undergo diagnosis and treatment.
Counseling on the importance of maintaining cigarette smoking abstinence if former smoker; or the importance of smoking cessation if current smoker and, if appropriate, furnishing of information about tobacco cessation interventions
If appropriate, the furnishing of a written order for lung cancer screening with LDCT.
---
ABK: There are several LCS risk calculators that can assist in shared decision making including key features, strengths and weaknesses and links to the calculator. The validity of these tools is unclear at this time and they should be used as a guide and not an absolute.
Counseling on the importance of adherence to annual LCS, impact of comorbidities and ability or willingness to undergo diagnosis and treatment.
Specific information related to NLST findings31:
A 20 percent reduction in lung cancer mortality with LCS in eligible patients following three rounds of LCS CT with 6.5 years of follow-up.
There was a 6.7 percent reduction of all-cause mortality.
The harms include:
Less than 1.5 mSv radiation exposure.
26.6 percent false positive rate baseline scan—reduced to 12.8 percent in a retrospective analysis with ACR Lung-RADS™.32
Less than 0.5 percent intervention for benign disease.
Estimated 3 percent over-diagnosis once the 15 percent incidence of carcinoma in situ (bronchioloalveolar cell carcinoma) is removed.20
ABK: Primary care SDM visits include elements required for Medicare/Medicaid reimbursement as indicated above. Written orders for both initial and subsequent LCSs include the following information, which must also be appropriately documented in the beneficiary's medical records for CMS reimbursement:
Beneficiary date of birth.
Actual pack—year smoking history (number).
Current smoking status, and for former smokers, the number of years since quitting smoking.
Statement that the beneficiary is asymptomatic (no signs or symptoms of lung cancer).
National Provider Identifier (NPI) of the ordering practitioner.
---
ABK/CCT: These can be documented in EMR as part of the order for the scan, as indicated here:
Codes and Payment Levels* for LDCT Screening
Description

Code

Professional
component

Global
payment

Counseling visit to discuss need for screening with LDCT

G0296

$28.64

$28.64

LDCT scan for LCS

G0297

$51.56

$254.93
*Fees used for illustration are from the national Medicare fee schedule, using the 2016 conversion factor. Medicare applies a geographic adjustment to develop actual fees paid in each area of the country.
Click to View Table:
Codes and payment levels* for LDCT screening
These can be "hard coded" into the EMR and required to order the LCS study.
---
KK/DKM/CCT:
Document on patient chart in EMR using "Smart Text" template.
EHR pop up documents this in a structured field when attempting to order an LCS exam.
Document in LCS database.
Paper template filled out and scanned into patient chart.
Required Elements
Exam details:
Facility ID number, patient name, exam date
General:
Smoking status in pack years
Smoking cessation counseling
Documentation of shared decision making
Height, weight, comorbidities, cancer history
Radiologist name, ordering provider and NPI
Indication for the exam
Exam modality, manufacturer, radiation exposure
CT exam results by Lung-RADS™ category
Other abnormalities- CT exam result S modifier
Prior history of lung cancer and years since diagnosis
Follow-up within 1 year
Documentation of an exam anytime within prior 12 months and date
Follow-up diagnostic for tissue:
Tissue Diagnosis
Tissue diagnosis method
Location from which sample was obtained
Histology
Stage- Clinical or pathologic
Overall stage
T, N, M status
Period of follow-up for incidence (in months)
Additional Risk Factors:
Education level, radiation exposure, occupational exposures, history of cancers associated with a higher risk of lung cancer, lung cancer in first-degree relative, other family history of lung cancer, COPD, pulmonary fibrosis, secondhand smoke exposure.
Name of person performing data collection for the exam, submission date.
---
CF:
To order LDCT for lung cancer screening, ordering provider must attest to shared decision being done and documented.
Requirement for actual documentation not clear. Some of our PCP's document the shared decision making discussion in detail, some just document that it was done. They are encouraged to reference the shared decision making tool used especially if they do not go into detail in their note as to what was discussed.
ABK: Primary care physician or a pulmonologist most commonly conducts the SDM in our program.
---
KS: Primary care physician's office, advanced practice registered nurse (APRN) or other qualified healthcare professional, qualified healthcare professional at the screening site, or dual SDM–provider first followed by second discussion with a screening coordinator. The center can bill both visits if done on separate days.
---
DTC: Shared decision-making occurs through two possible pathways: 1) conducted by primary care providers with material and educational support provided by the central program staff and 2) conducted by a dedicated LCS central program APRN. Built into our electronic health record order there is a hard stop attestation requirement for shared decision making. The ordering physician has to select that they performed SDM before they can complete the order. The order also has a link to a PDF of our program's SDM tool kit that can be printed out and assist with SDM during the point of care.
---
CCT/KK/RSW/KS: In our center, any physician can order an LCS exam and he or she must conduct the SDM visit prior to ordering this. A best practice advisory will alert the provider to the possibility that their patient may meet criteria for LCS. An LCS exam can't be ordered without documentation of the SDM visit and smoking cessation counseling.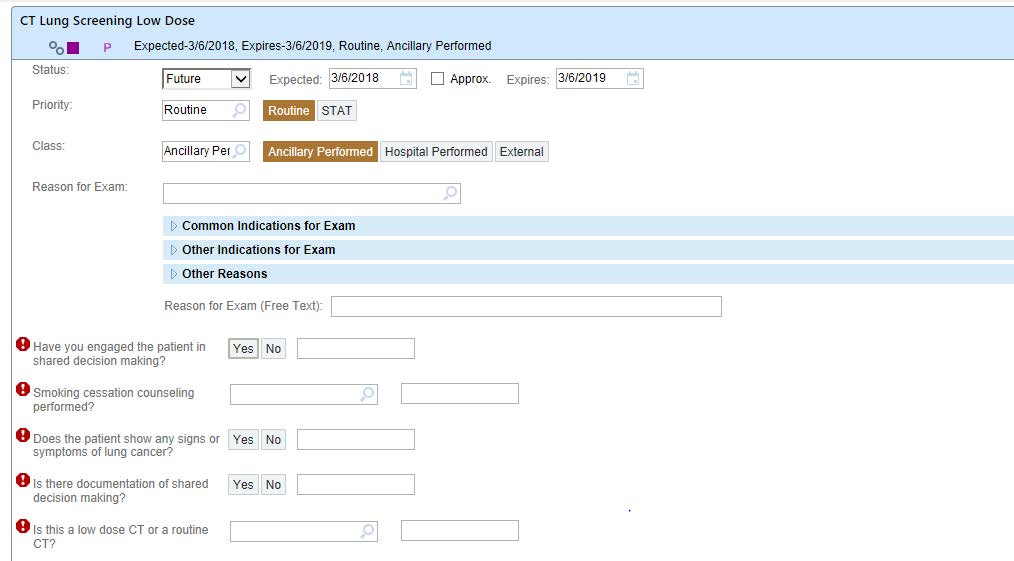 ABK/CCT: The shared decision-making visit has a separate Healthcare Common Procedure Coding System (HCPCS) billing code that can be generated in the face-to-face visit and is distinct from the CT scan, which is billed through radiology.33,34 The two codes are listed below. At least 11 elapsed months must pass between screenings (billing for G0297). Medicare coinsurance and Part B deductible are waived for this service.33,34
G0296 – LDCT-LCS Shared Decision-making session.

seling visit to discuss need for lung cancer screening (LDCT) using low-dose CT scan (service is for eligibility determination and shared decision making).
APC 582.

G0297 – Low-dose CT (LDCT) scan for lung cancer screening.
Services must be billed with ICD-10 diagnosis codes:
Z87.891 for former smokers (personal history of nicotine dependence).
F17.2 for current smokers (nicotine dependence).
ABK: The summary table in the resource section describes several lung cancer screening decision aids including key features, strengths and weaknesses and links to the decision aid. None of the decision aids met all of the International Patients Decision Aid Standards Collaboration (IDPAS) criteria, however, most of the decision aids met the majority of the criteria.
ABK/CT: AHRQ's SHARE Approach is a five-step process for shared decision making that includes exploring and comparing the benefits, harms, and risks of each option through meaningful dialogue about what matters most to the patient.
Seek your patients' participation
Help your patient explore and compare treatment options
Assess your patients' values and preferences
Reach a decision with your patient
Evaluate your patients' decision
ABK/CCT: We have found physician recommendation to screen to be important in the screening decision. Others have described demographics: insurance status, education, age, smoking status, family history of lung cancer, psychological – perceived smoking related stigma, cancer fatalism, medical mistrust, lung cancer worry, lung cancer fear, knowledge lung cancer and lung cancer screening, social influences and media exposure
---
EJ/CCT: Our experience has shown a patient's knowledge and awareness of lung cancer screening is the most important factor for successful screening. This knowledge is most easily gained through physician and patient interaction. Among patients who have an established primary care provider physician influence is also an important factor. Among patients who do not receive annual routine medical care or do not have an established primary care provider screening is much more challenging. These patients often are not screened for the following reasons.
Concern over the complexity and cost of screening
Refuse screening because they have no symptoms
Are fearful of the results
Misperceptions of treatment options, thinking all cancer is a death sentence
Uninsured
Mistrust of healthcare providers
Scheduling the Screening Study
CCT: Any provider can order and schedule an LCS study. They are ordered and scheduled in a decentralized manner. The EHR includes a best practice advisory which triggers consideration of an LCS study based on age and smoking history. Once an exam is ordered, the eligibility criteria are then assessed by radiology in a centralized way. If the criteria are not met, the radiologist will query the ordering provider and either cancel the study or change it to a diagnostic CT where appropriate. Each office has a different workflow for scheduling the study with radiology. In most offices administrative staff or medical assistants obtain prior authorization for the exam where necessary and schedule the study following approval.
---
EMH: We started off having orders for LCS routed through central scheduling and switched to an EHR-based distributed model. The distributed EHR model is only as good as the vendor and IT implementation team allow it to be, however, and we are progressing back towards a centralized model. In our system, a central scheduling model seems to offer us the best chance of order success. I anticipate this will change again when we complete a system wide EHR migration project in the near future.
---
SR/BM: All LCS exams are scheduled by one of our two program coordinators. LCS exams are not scheduled through central scheduling due to potential pre-authorization requirements.
---
CF: In general, primary care physicians and pulmonologists enroll patients into the screening program. All orders for LCS studies are processed through our LCS program coordinator and vetted for appropriateness. To the extent that our EHR is able, patients who may qualify for LCS are identified and their provider is notified. The LCS study is ordered through the EHR as "lung cancer screening CT." We originally had the order as "Low dose CT for lung cancer screening" and physicians would use the order for non-eligible patients because they liked the idea of low-dose. In addition, when ordered, a box comes up where the ordering provider has to check boxes to confirm eligibility criteria, confirm that they have performed and documented shared decision making, and confirm that they are enrolling the patient in the LCS program. The order is transmitted to radiology and the LCS program. The LCS program navigator confirms insurance coverage details, contacts the patient, confirms their understanding of out of pocket costs, and schedules the CT.
---
KS: The Vanderbilt University Medical Center referring providers may order the LCS study as they order other imaging tests and patients are then scheduled by the imaging center. We only perform these studies at our outpatient imaging facilities, which allow us greater control of scheduling (do not have to involve the main hospital ordering system). The imaging center schedules a consult appointment with the radiology nurse practitioner immediately prior to the LCS appointment. This allows the nurse practitioner to confirm eligibility criteria and perform a shared decision-making visit if necessary.
---
CL: Program navigators, after reviewing for initial and continuing eligibility, will send an EMR in-basket message to the healthcare provider with a reminder of the patient's eligibility, so that timely orders can be activated by the provider. It would be equally important to provide ordering providers prompts or reminders when patient eligibility has ended, so that imaging beyond the guidelines does not occur.
---
CCT: Any office can schedule an LCS study once an order has been placed. Radiology will then review the eligibility criteria to ensure that the patient is eligible. Reporting requirements are maintained through the EHR within the ordering fields with mandated questions regarding shared decision making and smoking cessation counseling.
---
RSW/KS: Our program is a hybrid. There is the option of either decentralized referral (PCP conducts SDM and places LCS order) and ordering of the study or centralized referral (PCP refers patient to an LCS / Pulmonary Nodule clinic for SDM visit and decision whether to proceed with screening; if yes, the sub-specialty clinic provider places LCS order).
---
MKG: LCS studies are ordered by primary care providers and pulmonologists using a standardized order set in the electronic health record. Providers are required to check boxes to confirm that the patient is asymptomatic, meets eligibility criteria, has undergone shared decision making, and has been referred for tobacco cessation treatment (TST), if a current smoker.
---
JM: LCS studies are ordered through a trigger in the patient's electronic medical record (EMR) which triggers a clinical reminder for their physician to order a CT chest screening. The clinical reminder is based on patient's age and smoking history. If a physician chooses to order a CT chest screening, they then perform a shared decision-making session with the patient to discuss the risks and benefits of CT chest screenings. Once the exam is ordered, the patient can call radiology to schedule their exam.
---
CGS: The VA Portland Health Care System is a centralized program where SDM and orders are performed by dedicated LCS program personnel.
---
PM: Any clinician in our health system can place an order for a consult to our LCS program. Our program administrator screens the order for patient eligibility. If the patient is eligible an order for the SDM visit and coordinated CT scan is placed, then signed by our program navigators.
SR/BM: We created an LCS request order that has no CPT code attached (and therefore cannot be scheduled/billed) that we ask physicians to place when they are ordering a screening exam. This request also falls onto a work queue and is changed to the correct order by a program coordinator based on the patient's most recent exam.
---
GM: We have an order that requires the completion of criteria eligibility questions. It then goes to a work queue for review by our NP who places the actual order.
---
CCT: Any LCS order can only be placed in the EHR after the provider completes questions related to symptoms, shared decision making, and smoking cessation counseling for eligible patients. These are sent to radiology and screened to make certain the patient meets criteria prior to the study being performed. In the ordering process the baseline vs. follow-up examination are options and this is verified centrally in radiology. The order is changed where necessary.
---
EMH: No system is perfect in this respect. We use a mix of distributed and central ordering with downstream checks to try to maximize adherence to recommended screening criteria. A robust IT implementation including hard stops for adherence to individual criteria is very helpful in this respect.
SR/BM: Yes. Non-CMS patients will also require pre-authorization.
---
CF: Yes, in particular some patients with private insurers have a large co-pay as some plans are grandfathered and are not obligated to fully cover LCS despite its Grade B recommendation. We try to identify the patient cost and share this with them prior to the scan being scheduled.
---
CCT: Yes, all patients will have an insurance pre-authorization where needed and any large co-pay or denial of coverage would be relayed to the physician and the patient prior to scheduling the exam.
EMH: An annual lung cancer screen should not be considered a "follow up" exam. Annual rescreening is the expected result for most patients undergoing LCS. Our EHR currently makes no distinction between first and subsequent lung cancer screens; annual exams are simply ordered as LCS. For short-term follow-up chest CT exams (three-month or six-month, as directed by Lung-RADS™ category), the exam is typically ordered as a non-contrast chest CT at the appropriate interval. In the exam protocoling stage the technical parameters for the exam are prescribed to be concordant with best practices for LCS and nodule follow-up.
---
CCT: In terms of follow-up examinations, ensuring LCS exam vs. other forms of CT scanning is challenging. Radiology reports should indicate which form of examination is appropriate for follow-up based on the initial findings. If there are no findings, the patient is returned to annual LCS exam. In our EHR, the orders specify initial low-dose screening or follow-up low-dose screening. All screening orders are reviewed for appropriate study classification in radiology prior to the exam being completed and changed if necessary.
---
SR/BM: We have a separate section of our database to help catch incorrectly ordered exams before the patient arrives so we can fix them if necessary. We have an alert board that, among other things, informs us of patients in the screening program who have a regular (not screening-related) chest CT scheduled within the next two weeks. If this CT was incorrectly ordered and should be either a screening exam or a follow up to a screening exam, we can make the change at that time so the exam will be tracked appropriately.
---
CF: All LSC exam reports are transmitted to LCS program in addition to the ordering provider. The LCS program physician reviews all reports and confirms appropriate follow-up (annual or otherwise) with respect to lung with the program navigator. The program navigator enters an alert into the EHR to be trigger a few weeks prior to scan due date. Eligibility for the LCS exam is reconfirmed prior to the follow-ups being ordered.
BM/SR: Prior to a patient's annual screening exam, our database searches the patient's record for any chest imaging (CTs or chest chest radiographs) the patient has had in the 12 weeks leading up to the screening exam. Often times chest imaging is ordered due to upper respiratory symptoms so this can cue us in if the patient is symptomatic. Further, patients receive a reminder phone call two days prior to their appointment where they are reminded that they should reschedule the exam if they have new or worse cough or shortness of breath, unintentional weight loss, or are coughing up blood.
---
RSW/KS: Defer to PCP (or other ordering provider) to ensure patient remains an appropriate candidate for screening.
---
CF: LCS program coordinates annual follow-up. Patients receive reminder letter and are called by LCS program navigator to confirm appointment. Patients are screened for symptoms by navigator using symptom screen form at time of call. Any symptoms are reviewed with LCS program doctor prior to scheduling scan.
---
GM: We have a script that is given to the program coordinator. She performs a basic screen at the time of the appointment reminder call.
---
DTC/CCT: As a part of the electronic health record order, there is a built-in hard stop attestation that the patient does not have symptoms. If that hard stop attestation is not completed, the order cannot move forward. Additionally, patients are queried at the time of their screening study as to any respiratory symptoms. If the patient is symptomatic, the ordering provider will be notified and the study may be changed to a diagnostic rather than screening CT; the study may alternatively be deferred if the symptoms are believed to be due to a URI, etc.