Before the Screening—Identifying Eligibility Criteria and Providing Pre-Screening Counseling
Determining who to screen may be one of the first decisions you make after deciding to start an LCS program. CMS and USPSTF upper age eligibility limits are different and will need to be considered in the eligibility process. How does your program consider those recommendations to screen individuals beyond CMS and USPSTF eligibility? Shared decision making is required by CMS. What are good ways to go about making sure patients are informed of the risks and benefits? These questions and more need to be answered up front when setting up your program and are addressed in our survey of LCS experts below.
Deciding Who to Screen
A review of recommendations based on policy statements and guidelines including summaries of these guidelines are presented in Organizational LCS Eligibility Recommendations in Guidelines and Policy Statements.
AM: The steering committee must determine if medically inoperable patients will be considered for screening. In our program, individuals with a life expectancy of greater than two years are offered LCS. In clinical practice, determining who is or is not medically fit for lobectomy or segmental resection is often debated amongst even the specialty care team and not something readily assessed by primary care; therefore most programs will encounter this scenario. It is important to have high-level program agreement on how to manage these individuals so that patients can be protected from unnecessary procedures and treatments.
---
PM/RSW/KS/CCT: Should medically inoperable patients be considered for screening? Would you consider SBRT for medically inoperable patients? Would you consider screening patients who are unable to tolerate a diagnostic biopsy? These are very difficult questions to provide evidence-based answers. Much of our understanding of the favorable balance of benefit to harms was provided by the results of the National Lung Screening Trial. The population enrolled in this trial was seen to be somewhat healthier, with a higher education level, and lower proportion of active smokers then the general population of eligible patients. Survival rates for those participating in the trial were much higher than population estimates for this group (95 percent vs. 89 percent five-year survival). This is largely felt to be a result of a healthy patient bias, reflecting the characteristics of those most likely to participate in clinical trials. Exclusion criteria for the NLST were not prohibitive—treatment for cancer within the past five years (other than non-melanoma skin cancer and carcinoma in situ), a history of lung cancer, a history of removal of any portion of the lung, the requirement for home oxygen supplementation, metallic implants or devices in the chest or back, unexplained weight loss of more than 15 pounds in the past 12 months, recent hemoptysis, pneumonia treated with antibiotics in the 12 weeks prior to assessment, and a chest CT examination in the 18 months prior to assessment. With these exclusion criteria in place, 347 patients were diagnosed with stage I lung cancer during the baseline and incident screening rounds of the NLST. Of these 347, only seven (2.0 percent) were treated with radiation alone, suggesting the population was largely capable of tolerating curative intent lung resection. With the understanding that the benefit of LCS has largely been shown in a population capable of tolerating curative intent resection, it is difficult to extrapolate these findings to at-risk populations who are not well enough to tolerate resection of a screen detected early stage cancer. The at-risk group with more health issues than present in the NLST population may be at higher risk for complications from the evaluation of lung nodules and treatment of early stage cancer. Survival after curative intent treatment may be lower, as may all-cause survival. Despite these concerns, it is very difficult to determine who is too ill to benefit from screening, particularly at the time of the screening visit when testing required to make this determination may not be available. Criteria similar to those used in the NLST (above) are reasonable to apply. Some of the programs allow SBRT eligible patients to enroll despite these concerns. Those who are not well enough to even tolerate a diagnostic biopsy should be excluded from screening. Collaborative discussions with relevant specialists connected to your program (e.g., pulmonary, cardiology) about potential exclusion criteria based on comorbidities is advised. Additional research in this field is required.
---
DTC: It is difficult to determine who is medically inoperable without consultation from an American Board of Thoracic Surgery eligible/certified general thoracic surgeon. Many patients who might appear medically inoperable may actually be eligible for potentially curative surgery via minimally invasive approaches, sub-lobar resection, or resection of upper lobe tumors in the setting of heterogeneous upper zone predominant emphysema. In addition, patients who are truly high-risk for surgery may have potential for cure after treatment with stereotactic body radiotherapy (SBRT). Patients who are marginal performance status but found to have a worrisome Lung-RADS™ score after CT screening are discussed in our multidisciplinary tumor board.
---
CCT: Yes, any patient who could be eligible for any therapy would be offered screening. Some patients will reveal "up front" that they would not pursue therapy but wish to know if they could have a lung cancer. Often, once they are diagnosed with a lung cancer and meet with specialists involved with treating lung cancer, they do decide to proceed with therapy. Many patients don't have the understanding of modern therapy for cancer or that we don't give chemotherapy for stage 1 lung cancer. These misconceptions can impact their initial response to screening and should be considered in the shared decision-making visit along with the medical comorbidities that would preclude screening.
---
AR: We try to avoid this by trying to increase education among referring sources.
---
CF: We follow same philosophy as above (CCT). I would also add that some patients who do not wish to pursue treatment still want to be screened because they feel the information provided has value to them. Additionally, as noted above and depending on the results, someone who initially does not want treatment might change their mind after the cancer is diagnosed and treatment options are discussed. Given multiple non-surgical options for treatment of cancer, individuals are not denied screening based on medically inoperability.
EMH/CCT: Yes, if their ordering provider believes their prior malignancy won't limit their lifespan such that screening becomes meaningless for that individual. Patients with metastatic disease are, however, excluded from screening.
---
BM/SR: We consider known metastatic disease and lung cancer diagnosis within the preceding five years exclusion criteria for our program. Patients with known or prior malignancies not meeting these exclusion criteria can be enrolled. In fact, a history of smoking-related cancer(s) is considered an additional risk factor in NCCN Group 2 high-risk patients.
---
CF: We evaluate on a case-by-case basis but agree a program should have a set policy. We use a five-year disease-free cutoff.
---
GM: It is important to have a baseline definition of screening and surveillance for your prior lung cancer patients.
---
DTC: As part of the ordering clinician education process, ordering providers are advised that patients who have had prior malignancy within five years and would benefit from cancer survivorship surveillance of previous malignancy with a diagnostic scan that will cover the chest, should not undergo LCS with low-dose CT scan.
---
AR: Patients need to be five-year disease-free, except for basal cell skin cancer.
EMH: If the patient had a chest CT within the last 12 months, the answer is no. We would take the opportunity to direct them to return for initial screening 12 months after the prior chest CT (as appropriate), or into the correct short-term follow-up or further diagnostic evaluation (as needed), based on that CT exam result.
---
BM/SR/CF/DTC: Among other reasons, a patient is considered symptomatic if (s) he is currently being followed for lung nodules. If the recent CT shows new nodules or recommends follow-up of the nodules, the patient would need to wait until that follow-up is resolved before entering a screening program. If the recent CT shows resolution/stability, the patient can be enrolled and his/her baseline screening exam should be one year from the recent CT.
---
CCT: If the patient has had a diagnostic CT within the past 12 months that would essentially count as a baseline study and you would delay starting a low-dose CT screening study for 12 months.
---
AR: Yes, but after 12 months.
---
CF: We will enroll with first LCT 12 months after diagnostic CT if no other indication for follow up diagnostic CT identified on current diagnostic CT. We re-confirm eligibility for LDCT at 12 months, prior to scheduling.
BM/SR/DTC/CCT/CF: Patients who become symptomatic should undergo a diagnostic evaluation and have any upcoming screening exam delayed until resolution of the symptoms. If any interval CTs are done as part of the work up for those symptoms, these should be considered when determining when the next screening exam should be. They should not be discharged from the program unless diagnosed with lung cancer (or something else makes them ineligible).
Establishing Systems to Offer Screening to the Right People at the Right Time—Eligibility
PM/RSW/KS/CCT: Strategies should be developed to identify patients who meet the program's screening criteria. The most important strategy is education of the community of providers who will refer patients for screening, as indicated in Section 3G. The primary care champion for the program can provide guidance about the most effective means of communication with the primary care group. Similar education and marketing efforts targeting potentially eligible patient populations should also be considered. Patient education tools in the form of pamphlets, call-lines, internet resources, and letters can be considered in conjunction with marketing experts.
The EHR can be useful in creating best practice advisories for appropriate patients for LCS. In our EHR, we have created a best practice advisory (BPA), a pop-up alert for patients meeting criteria, and embedded the appropriate order for an LCS exam in the order window. Alternatively, if a provider orders an LCS exam on their own, criteria for inclusion can be funneled into a hard stop, as well as smoking cessation and shared decision-making criteria answered prior to the system allowing the order. EHRs could also provide the means for a program to mine patient data with the goal of identifying potentially eligible patients. The quality of the smoking history within the EHR impacts the success of these approaches. Order sets can be built to include reminders about the accepted screening criteria within them.
---
AM: High-risk individuals can be identified through primary care offices. We began educating primary care providers through a campaign consisting of face-to-face meetings with PowerPoint presentations describing the characteristics of patients who are at high-risk for lung cancer. During these visits, we provided office materials that could be used by medical assistants to identify the high-risk population as well as shared decision-making tools to assist in performing these conversations. High-risk patients are now identified through an EHR best practice alert.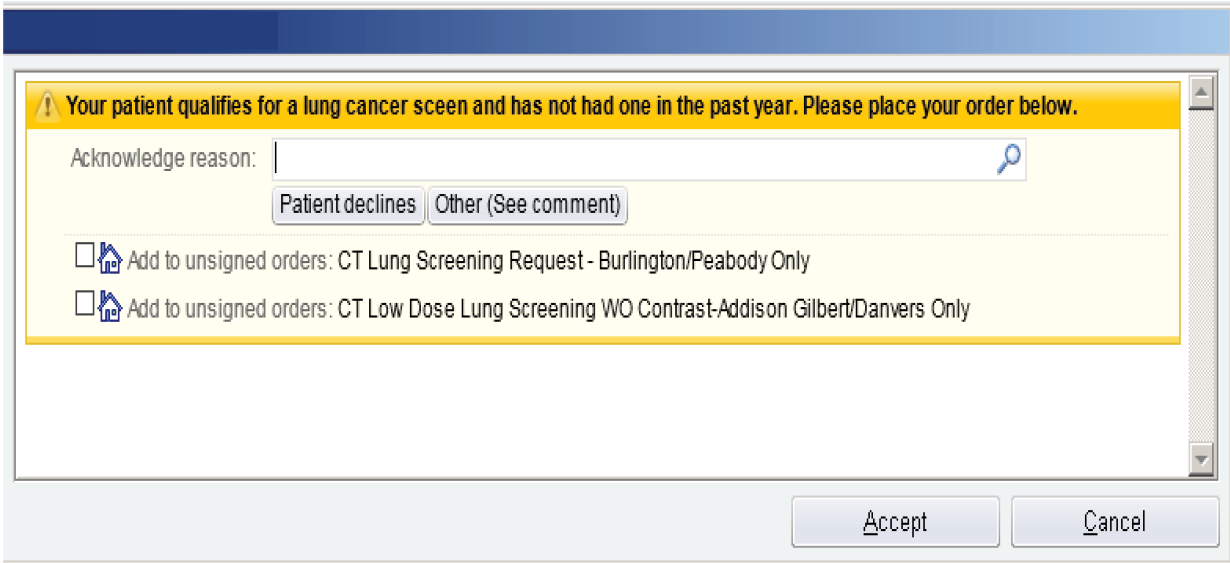 ---
CF: The screening program regularly educates all our providers, with a special emphasis on PCPs, regarding criteria for eligibility, components of shared decision making and smoking cessation counseling. We primarily rely on our PCPs and pulmonary providers to identify eligible patients, perform shared decision-making and enroll appropriate patients in the screening program. Administration assists PCPs with identifying potentially eligible patients in their practice with whom screening should be addressed by pulling smoking history data from our EHR. The screening program confirms eligibility before the CT is scheduled.
---
CCT: Education and inclusion of LCS for eligible patients are keys to finding and enrolling patients. After forming our multi-disciplinary team, we developed educational packets for primary care providers. These were hand delivered to every office and the team nurse navigator provides in-person outreach to primary care practices. Our team presented at medical staff meetings, through primary care meetings, in medical grand rounds, and through our nurse navigator visiting offices. Outreach to the community with pocket cards in key locations through the facility and visits by our navigator to leadership meetings, health fairs, and community organizations were other methods. We worked with our EHR analysts to develop a best practice advisory that would be included in the key area for health care maintenance and pop up when a patient was eligible for screening. Inclusion criteria are included in this resource as is shared decision-making information.
ABK/KK/DKM/CCT:
Identify eligible patients via electronic medical record.

EHR best practice advisory alert to physician that patient may be eligible for screening. These can be included in the area of health maintenance frequented by primary care providers as well as pop ups for patients meeting criteria via structured data fields by age and smoking history.
Note to physician in patient's chart to address at next visit.

Send letter or email to patient with information on LCS from physician office.
Reach out to community programs and those populations at high-risk for lung cancer.
Administer tobacco use survey by intake office to identify patients who might qualify for screening or tobacco cessation counseling.
Provide information on LCS to patients in PFT labs, emergency rooms, radiology, urgent care, pulmonary, cardiology, pulmonary rehab, and primary care offices.
---
KS:
Schedule SDM counseling visit and screening CT appointment for same day to enhance adherence.
Hospital emergency room smoking history collection trigger a discussion of LCS for eligible patients.
Include discussion about LCS during hospital in-patient smoking cessation counseling.
---
KK/DKM/CCT:
Provide a fact sheet of eligibility criteria for physicians and patients for use at point of care (either print or electronic medium)—include a range of costs for screening (CT Lung Cancer Screening Order Form).
---
CF:
Educating PCP about at risk population and the need to discuss lung cancer screening with appropriate patients.
LCS program brochures.
AM: Yes, we rely on primary care providers to identify eligible patients during their office visit, but our CT schedulers also speak with the patients to verify their high-risk criteria. Demographic data is entered into a data tracking system by the program navigators. Navigators call patients prior to the exam to determine if they remain asymptomatic and answer questions prior to screening.
---
GM: We have a centralized program. Patients are referred for LCS to the program only in order to meet compliance for eligibility criteria, shared decision making, follow-up, and to communicate results.
---
KLS: Referring providers should be aware of the USPSTF guidelines and only order/ refer patients who meet criteria. We include the criteria in the electronic health record (EHR) CT order set that is visible to clinicians while ordering the LCS CT. LCS program or radiology staff members then validate the criteria on the day of the shared decision-making visit and CT scan. The shared decision-making discussion and the CT scan order are done in the same visit.
---
MKG: Kaiser Permanente Southern California uses a standardized order set for an LCS CT that includes mandatory yes/no questions to document that the patient meets eligibility criteria for age, smoking history and is asymptomatic.
---
CF: All LCS CTs are scheduled through the LCS program. The LCS program navigator confirms eligibility before the CT is scheduled.
---
CCT: A best practice advisory prompts the ordering provider based on eligibility criteria as documented in the EHR. To order an LCS CT, there are mandatory yes/ no questions that must be answered regarding shared decision making and smoking cessation counseling. Any provider can order an LCS study; thus, this is a decentralized access program. However, centrally, a radiology technician screens all orders for eligibility and will cancel orders that do not meet criteria or change the order to a diagnostic CT after conferring with the ordering provider. This mechanism assists with ensuring that only eligible patients are being screened and that insurance will reimburse the study.
AM: This situation is rarely encountered when an educated and engaged primary care base is involved with your program. If individuals outside the program's defined high-risk criteria are insistent on a CT screen, they must pay out-of-pocket for service and are not tracked or entered into the LCS program.
---
CCT: This is rare, but when it does occur the results are tracked in our program.
---
AR: The scan is done as a screen with lower cost but is not part of the program. Follow up is dependent on the PCP and patient.
---
CAP: We are currently screening participants who are covered by Medicare/Medicaid and those who meet the expanded criteria. For those not meeting the Medicare/ Medicaid requirements, a low-dose screening CT scan is offered at $150.
PM/RSW/CT: It is important that screening programs review the potential benefit and harms of lung cancer screening when deciding on a policy of who will be eligible for screening within their program. When considering the balance of benefit and harms it is important to recognize that screening decisions are different than diagnostic testing and treatment decisions. When screening, only a small fraction of everyone screened will benefit, while in diagnostic testing and treatment there is an expectation that most will have some benefit. All patients who are screened are exposed to the potential harms. Screening, by definition, means we are testing a healthy population for occult disease. Thus the harms are being applied to a group that is otherwise healthy at the time of testing. Finally, the value of the benefits and harms of screening are not equal and vary with patient values.
After detailed evaluations of the benefits and harms of lung cancer screening, the majority of stakeholder societies have recommended lung cancer screening based on the national lung cancer screening trial (NLST). There is variability in the strength of the recommendations and in the risk groups identified within the available guidelines. All of those in favor of screening include the NLST risk group while some expand their recommendations beyond this group (Table 1,2). The USPSTF, based on modeling performed by five centers for the Cancer Intervention and Surveillance Modeling Network and the Agency for Healthcare Research and Quality, recommended annual lung cancer screening for individuals age 55-80 years who have smoked at least 30 pack-years, have been smokers within the past 15 years, and are otherwise healthy enough to benefit from the discovery of an early-stage lung cancer. This recommendation came with a grade of B. In addition to the long road to develop evidence strong enough to influence guideline recommendations, the evidence had to be compelling enough to influence public policy.
Despite the guideline recommendations, a review of the evidence by a Medicare Evidence Development Coverage Advisory Committee led to voting results that reflected strong concern that lung cancer screening could be implemented in a manner that would maintain a favorable balance of benefit to harms. To address these concerns, societies with interest in lung cancer screening produced policy statements about characteristics of high quality lung cancer screening and presented these to the Centers for Medicare and Medicaid Services (CMS). In an insightful and creative decision, CMS ultimately approved coverage for lung cancer screening while mandating aspects of the screening process (e.g. data reporting, shared decision making) related to the quality of the program, that are required for a program to receive payment. Outside of Medicare beneficiaries, the Affordable Care Act (ACA) ensures that all health insurers participating in the health exchange provide coverage for USPSTF grade A or B recommended screening. A practical and very reasonable approach to the question of who to screen would be to screen those where benefit has been proven (the NLST population), follow CMS guidelines for Medicare patients, and USPSTF guidelines for patients with private insurance. It would be helpful for a program to have an awareness of the coverage policies for the largest local insurance providers. Beyond the practical application of this guidance, there is much to consider. Screening is for asymptomatic patients only. A screening program must be prepared to receive referrals for symptomatic patients and shunt these to a diagnostic testing algorithm. Screening is only useful for those healthy enough to benefit from early detection of lung cancer. The group at risk for developing lung cancer is likely to have comorbid conditions that may impact their health. There are no clear definitions for who is healthy enough to benefit from lung cancer screening. An ability to tolerate curative intent therapy has been suggested, however in the era of stereotactic body radiation therapy (SBRT) it is recognized that this is difficult to define. Collaboration with pulmonary and cardiology experts within your program to define groups unlikely to benefit from screening is advisable. Many questions about who to screen are still being debated. A review of the available guidelines highlights differences in interpretation of the evidence (Table 1,2). It is recognized that the benefit to harm ratio of the lowest risk individuals within the accepted screening criteria may not justify screening. It is also recognized that there are individuals outside of the accepted screening criteria who have a similar risk to those within the criteria.
An individual's risk is augmented by older age, the presence of chronic obstructive pulmonary disease (COPD), family or personal histories of cancer, when calculated with available risk prediction calculators. These calculators, when applied to data from previously conducted screening trials, suggest that their application could lead to a small improvement in the number of cancers found per person screened. Though the risk of these individuals may appear to justify inclusion in screening, the added risk may come at the expense of age and comorbidities that influence the risks of lung nodule evaluation, and risks and benefit of lung cancer treatment. More study is required to determine the safety of expanding current screening criteria. The results of ongoing controlled trials enrolling different risk groups and of variable design, will help to inform these critical decisions. Opportunities for additional observational and interventional research exist to further address this question.
---
JLM: Screening is the pursuit of a potential incurable process in an asymptomatic, high-risk cohort at a time when cure of that process is still possible. The motivation to engage in a screening process relates to risks inherent in the process relative to the potential benefit of intercepting a potentially lethal process. The "appropriateness" of the screening is fundamentally related to the risk or harms of screening from the perspective of the individual considering participation in screening.
Since the NLST was initiated in 2002 there has been an enormous amount of research, which has resulted in a more systematic approach to screening management. Cohort risk profiles can be better defined. Work-up efficiency with corresponding reduction in false-positivity rates have greatly improved with approaches including those proposed by I-ELCAP, American College of Radiology (ACR), NELSON as well as the UK pilot experience. Radiation risks, which many thought were overstated even with the dose levels used in the NLST, can be further reduced with broadly available vendor innovations allowing for the use of much less medical radiation (around an order of magnitude) with current best practice screening imaging. To date, the published experience with invasive diagnostic work-ups in the screening setting, as well as with surgical management of screen-identified lung cancer, has been well tolerated.
The implications of these positive screening management developments is that the benefit to harms relationship becomes more favorable. Since the cost of a lung cancer screening CT image is modest for the technical component of a low dose, non-contrast CT required for lung cancer screening ($57), it would be reasonable to evaluate what other individuals may benefit from low dose screening. Studies to extend screening indications based on new evidence should be encouraged. However, these studies need to be designed with sufficient rigor to allow CMS and other funding agencies to make responsible stewardship decisions about the value proposition in extending screening indications. Therefore a broader, more timely as well as more flexible definition is needed to determine who would optimally benefit from low dose thoracic CT screening.
A final consideration arises from our institutional experience with PCORNET. When we do a brief oral consent over the phone, we typically get very high (90% plus) participation. In the same setting if we have to read a full standard informed consent over the phone, we get the vast majority of the candidates refusing participation. If the screening informed decision process is not executed focusing on a clear communication about current issues associated with this service, then the potential screenee is not well served by the process.
BJM/SR: There are approximately 60,000,000 women qualified for mammography and 10,000,000 patients qualified for CT lung screening. Therefore a rough estimate could be for every six mammograms your hospital performs, you should perform one CT lung screening exam. For example, if your institution performs 30,000 screening mammograms per year you should be performing roughly 100 CT lung screening exams per week (30,000/6 = 5000/50 wk = 100). An alternative method is to use the fact that at steady state in mammography there are nine women enrolled with prior exams for every one new woman entering the program. As such if you could estimate your baseline CT lung screening volume the steady state volume of the program should be 10x times that number. For example, if you plan to enroll 20 new patients per week at steady state you program should have a volume of 200 screening exams per week.
---
RW: This is going to be highly variable depending on the volume of the patient population served, patient population characteristics (risk factors/eligibility), uptake of screening among providers and patients (dependent on leadership support, aggressiveness of marketing, patient and provider interest, etc.), capacity of program, etc. Even between programs that are otherwise similar (e.g. eight site VA demonstration project of LCS), volume of screened patients varied dramatically. So I'm not sure how useful it will be for programs to figure out their own expected volume to see a huge range from other programs.
---
GM/DTC/CCT: Estimates can be based on the size of the population, percentage of smokers within your population, nodule detection rate in your area and percentage of your institution's market share.
AM: Offering screening the USPSTF and CMS defined high-risk populations simplifies screening operations, as payment is in place for most of these individuals. Offering screening to NCCN group 2 or AATS defined populations introduces a patient discussion regarding self-pay out of pocket expense as well as patient tracking considerations, namely whether to monitor separately quality metrics for other high-risk groups or include all populations as one when reporting quality outcomes. It also introduces an element of uncertainty, because patients who meet NCCN group 2 or AATS criteria but not USPSTF criteria were not included in the NLST and the balance of benefits and harms is less clear for these individuals than it is for those who meet USPSTF criteria.
---
CAP: We are currently screening participants who are covered by Medicare/Medicaid and those who meet the expanded criteria. For those not meeting the Medicare/Medicaid requirements, a low-dose screening CT scan is offered at $150.
Deciding Whether to Screen—Shared Decision-Making (SDM)
ABK: Primary care SDM visits include elements required for Medicare/Medicaid reimbursement as indicated above. Written orders for both initial and subsequent LCSs include the following information, which must also be appropriately documented in the beneficiary's medical records for CMS reimbursement:
Beneficiary date of birth.
Actual pack—year smoking history (number).
Current smoking status, and for former smokers, the number of years since quitting smoking.
Statement that the beneficiary is asymptomatic (no signs or symptoms of lung cancer).
National Provider Identifier (NPI) of the ordering practitioner.
---
ABK/CCT: These can be documented in EMR as part of the order for the scan, as indicated here:
Codes and Payment Levels* for LDCT Screening
Description

Code

Professional
component

Global
payment

Counseling visit to discuss need for screening with LDCT

G0296

$28.64

$28.64

LDCT scan for LCS

G0297

$51.56

$254.93
*Fees used for illustration are from the national Medicare fee schedule, using the 2016 conversion factor. Medicare applies a geographic adjustment to develop actual fees paid in each area of the country.
Click to View Table:
Codes and payment levels* for LDCT screening
These can be "hard coded" into the EMR and required to order the LCS study.
---
KK/DKM/CCT:
Document on patient chart in EMR using "Smart Text" template.
EHR pop up documents this in a structured field when attempting to order an LCS exam.
Document in LCS database.
Paper template filled out and scanned into patient chart.
Required Elements
Exam details:
Facility ID number, patient name, exam date
General:
Smoking status in pack years
Smoking cessation counseling
Documentation of shared decision making
Height, weight, comorbidities, cancer history
Radiologist name, ordering provider and NPI
Indication for the exam
Exam modality, manufacturer, radiation exposure
CT exam results by Lung-RADS™ category
Other abnormalities- CT exam result S modifier
Prior history of lung cancer and years since diagnosis
Follow-up within 1 year
Documentation of an exam anytime within prior 12 months and date
Follow-up diagnostic for tissue:
Tissue Diagnosis
Tissue diagnosis method
Location from which sample was obtained
Histology
Stage- Clinical or pathologic
Overall stage
T, N, M status
Period of follow-up for incidence (in months)
Additional Risk Factors:
Education level, radiation exposure, occupational exposures, history of cancers associated with a higher risk of lung cancer, lung cancer in first-degree relative, other family history of lung cancer, COPD, pulmonary fibrosis, secondhand smoke exposure.
Name of person performing data collection for the exam, submission date.
---
CF:
To order LDCT for lung cancer screening, ordering provider must attest to shared decision being done and documented.
Requirement for actual documentation not clear. Some of our PCP's document the shared decision making discussion in detail, some just document that it was done. They are encouraged to reference the shared decision making tool used especially if they do not go into detail in their note as to what was discussed.
ABK/CCT: The shared decision-making visit has a separate Healthcare Common Procedure Coding System (HCPCS) billing code that can be generated in the face-to-face visit and is distinct from the CT scan, which is billed through radiology.33,34 The two codes are listed below. At least 11 elapsed months must pass between screenings (billing for G0297). Medicare coinsurance and Part B deductible are waived for this service.33,34
G0296 – LDCT-LCS Shared Decision-making session.

seling visit to discuss need for lung cancer screening (LDCT) using low-dose CT scan (service is for eligibility determination and shared decision making).
APC 582.

G0297 – Low-dose CT (LDCT) scan for lung cancer screening.
Services must be billed with ICD-10 diagnosis codes:
Z87.891 for former smokers (personal history of nicotine dependence).
F17.2 for current smokers (nicotine dependence).
Scheduling the Screening Study
SR/BM: Yes. Non-CMS patients will also require pre-authorization.
---
CF: Yes, in particular some patients with private insurers have a large co-pay as some plans are grandfathered and are not obligated to fully cover LCS despite its Grade B recommendation. We try to identify the patient cost and share this with them prior to the scan being scheduled.
---
CCT: Yes, all patients will have an insurance pre-authorization where needed and any large co-pay or denial of coverage would be relayed to the physician and the patient prior to scheduling the exam.
Studies
Duffy, S. W., & Field, J. K. (2020). Mortality Reduction with Low-Dose CT Screening for Lung Cancer. The New England Journal of Medicine. Retrieved from NEJM.org
Koning, H. J. D., Aalst, C. M. V. D., Jong, P. A. D., Scholten, E. T., Nackaerts, K., Heuvelmans, M. A., … Oudkerk, M. (2020). Reduced Lung-Cancer Mortality with Volume CT Screening in a Randomized Trial. New England Journal of Medicine, 382(6), 503–513. doi: 10.1056/nejmoa1911793
Results of Initial Low-Dose Computed Tomographic Screening for Lung Cancer. (2013). The New England Journal of Medicine. Retrieved from NEJM.org
Almost a decade ago, the National Lung Screening Trial showed that screening with low-dose chest CT reduced the risk of fatal lung cancer in high-risk patients. The 20% reduction in relative risk persuaded policymakers in the U.S. to back the approach to lung cancer screening. The NELSON trial (editorial), conducted in a population of  Dutch and Belgian participants included 13,195 men and 2,594 women 50 to 74, all current or former smokers. The participants were randomized to undergo CT screening or no screening. Screening occurred at baseline, 1 year, 3 years, and 5.5 years at four centers in The Netherlands and Belgium. Investigators used a volume-based approach to evaluate nodules observed on CT.  The screened group had a higher incidence of lung cancer, 5.58 versus 4.91 cases per 1,000 person-years. Analysis of the between-group difference in the rate ratio for lung cancer mortality yielded a statistically significant reduction in favor of screening (HR 0.76, 95% CI 0.61-0.94, P=0.01). A comparison of the rate ratio for screened versus unscreened women produced a hazard of 0.67 (95% CI 0.38-1.14).  The difference translated into a 24% reduction in the risk of death from lung cancer at 10 years. Women appeared to derive even greater benefit from screening, as they had a 33% lower lung cancer mortality versus unscreened women, although the difference did not achieve statistical significance.