Planning an LCS Program
Starting a successful and effective clinical LCS program is a complex endeavor that requires careful coordination of many clinical and administrative activities. General elements required for program initiation have been previously described in Recommendations of ATS/ACCP policy statements on implementation of LC. However, as with any complex process, the details are important. There are many questions which arise in planning an LCS program that are incompletely addressed in the published guidelines referenced earlier. The answers to the questions below provide practical guidance to commonly encountered implementation issues and are answered by the panel. Participating panelists from centers around the country are outlined in Panel Profiles and Organizational Structure which allows the reader to understand the environment the panelist is working in and how their program may differ from those at another institution.
Engaging Local Leadership and Establishing a Business Plan
LCS programs generate activity across multiple departments throughout an organization. Accounting for these diverse sources of downstream revenue can be challenging but necessary when seeking to secure resources for program implementation. Additional considerations for engaging senior leadership beyond the proven mortality benefit to the high-risk population are addressed by the following questions and responses.
AM: Armed with the ground-breaking results from the NLST and the newly-released NCCN LCS guidelines, physician and administrative members of our multidisciplinary steering committee educated our senior administration about the net benefit of LCS for the high-risk population at various time points and settings including one-on-one conversations and formal group presentations. We highlighted the power of LCS to save lives and decrease morbidity while simultaneously mitigating our institutional legal liability. We also provided our senior administration with a forward looking business analyses projecting potential hospital activity/volume resulting from LCS under a variety of scenarios.
---
CCT/AR: Our program leaders worked with senior leadership in oncology, radiology, and pulmonary to synthesize the evidence and evaluate the financial impact of such a program on the organization. We assessed ACO financial data on the lung cancer diagnosis as well as therapies and evaluated leaks from our program with a plan for improved retention of patients from the point of screening forward utilizing a multidisciplinary team and navigator. We also used evidence of the risk of loss to follow-up and the need for a surveillance system in addition to an LCS program. This is a huge area of concern for primary care and ordering providers across the organization and our screening program was proposed in conjunction with a robust mechanism to track incidental lung nodules as well and to provide surveillance.
---
CF: Making the case to provide an LCS program through our practice was a challenge. We met with administrations and reviewed the data regarding LCS to establish a need for such a service. We are a large multispecialty group affiliated with but separate from a local hospital system. The sources of "downstream" revenue for our group are limited, i.e., we do not directly provide chemotherapy, radiation therapy, or receive the facility fee for surgeries. However, there is a strong incentive for administration to prevent "leakage" of patients from the practice. We were able to get backing by emphasizing that a program was the right thing to do for our patients, to ensure that screening is discussed and offered to appropriate high-risk patients, and also to ensure that patients without a clear benefit are not unnecessarily exposed to the risks of screening. It was also emphasized that if we did not offer an internal screening program our PCP's would still need to discuss LCS with appropriate patients and if screening was to be pursued it would require referring them to a program outside our practice and our affiliated medical center.
NLST results to be used in Shared Decision-Making
Review the evidence from the NLST
20% reduction in lung cancer mortality LDCT screening (3 rounds – prevalence 2 annual incidence, 6.5 year follow-up)
6.7% reduction all-cause mortality LDCT screening
Stage shift – 70% of lung cancers detected Stage 1 and 2 with LDCT; reverted to 37% during follow-up after screening rounds completed
26.6% false positive rate baseline scan – reduced to 12.8% in a retrospective analysis with ACR LungRADS
Less than 0.5% intervention for benign disease
Less than 1.5 mSv radiation exposure
Estimated 18% overdiagnosis; majority (15%) of overdiagnosis for what is now known as carcinoma in situ (bronchoaveolar cell carcinoma)
Comparison to other screening modalities
Number needed to screen LDCT less than mammography and colonoscopy
Screening LDCT (NLST) NNS = 320 (The National Lung Screening Trial Research Team. N Engl J Med 2011;365:395-409)
Screening Mammography NNS = 780-2000 (Getzsche PC,Nielson M. Screening for breast cancer with mammography. Cochrane Database Syst Rev. 2011;(1):cd001877 and J Med Screen 2001;8:125-127)
Screening Colonoscopy NNS = 1250 (J Med Screen 2001;8:125-127)
Screening LDCT 3 highest risk quintiles (NLST) NNS = 208 (Kovalchik SA et al. N Engl J Med 2013;369:245-254)
Screening LDCT more deaths prevented as compared to mammography and PSA testing
LDCT – 3 deaths averted
Mammography – 0.1-1.6 deaths averted
PSA – 0-1 death averted
LCS is the only cancer screening test to reduce overall mortality.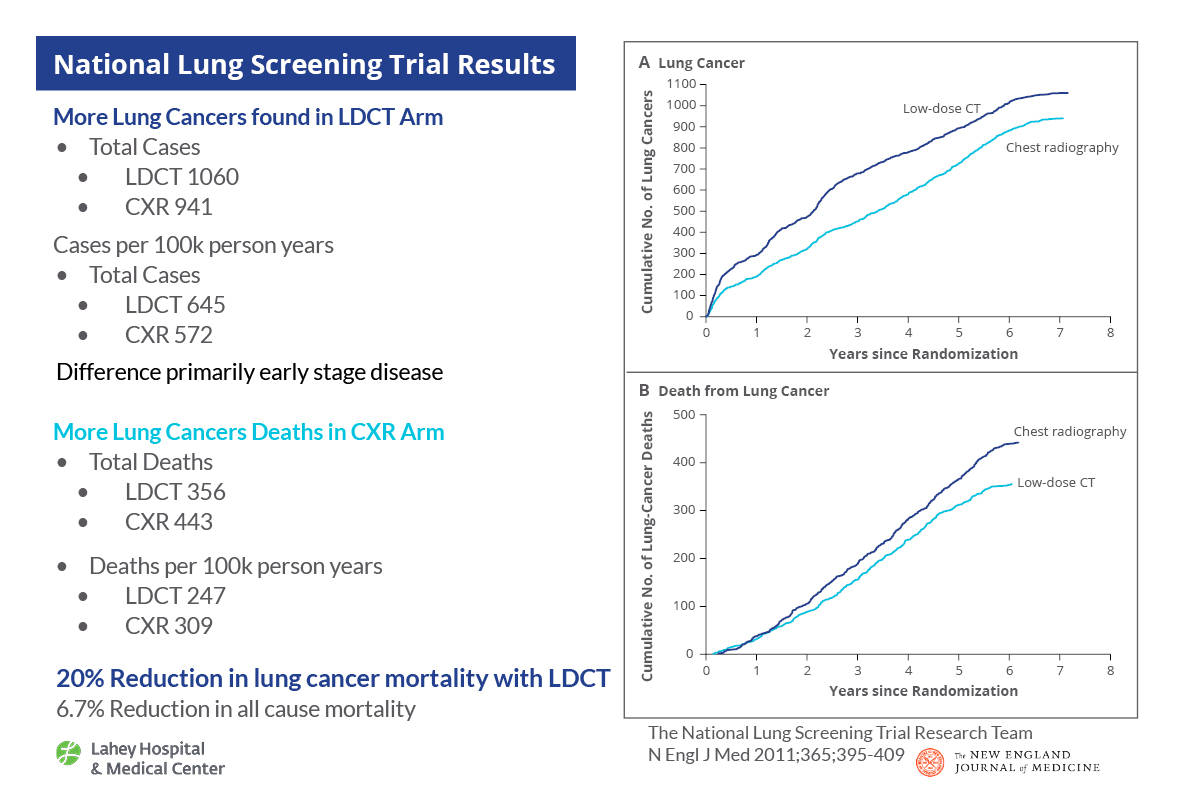 Why cancer screening has never been shown to "save lives"–and what we can do about it.
Lifetime Overdiagnosis for NSCLC (excluding BAC) with LDCT Screening at Approximately 3%
Ps1a% (95% CI)

NSCLC Excluding BAC
BAC
All NSCLC

Scenario

vs No Screening
vs CXR
vs No Screening
vs CXR
vs No Screening
vs CXR
3 Annual Screens

With 7 y follow-up

21 (16-25)

9 (6-12)

85 (69-93)

71 (52-83)

31 (27-34)

19 (16-23)

With Lifetime follow-up

2.6 (2.0-3.3)

1.2 (0.7-1.7)

49 (34-71)

41 (28-62)

11 (7-15)

9 (5-13)

5 Annual Screens

With 5 y follow-up

45 (39-49)

16 (12-21)

91 (84-95)

73 (56-85)

53 (48-56)

25 (21-29)

With Lifetime follow-up

3.2 (2.6-3.8)

1.3 (0.8-1.9)

51 (33-71)

42 (27-60)

12 (7-15)

9 (5-13)
Abbreviations: BAC, bronchioloalveolar cell carcinoma; CXR, chest radiography; or no screening cohort divided by total number of screen-detected cancers LDCT, low-dose computed tomography; NSCLC, non-small cell lung cancer. In LDCT cohort. aOverdiagnosis rate is total cancers in LDCT cohort minus total cancers in CXR
Patz E.F, Jr, Pinksy P. Gatsonis C. et al. Overdiagnosis in Low-Dose Computed Tomography Screening for Lung Cancer. JAMA
Intern Med. 2014:174(2):269-274 dol: 10.1001/jamainternmed.2013.12738
Click to View Table:
Lifetime Overdiagnosis for NSCLC (excluding BAC) with LDCT Screening at Approximately 3%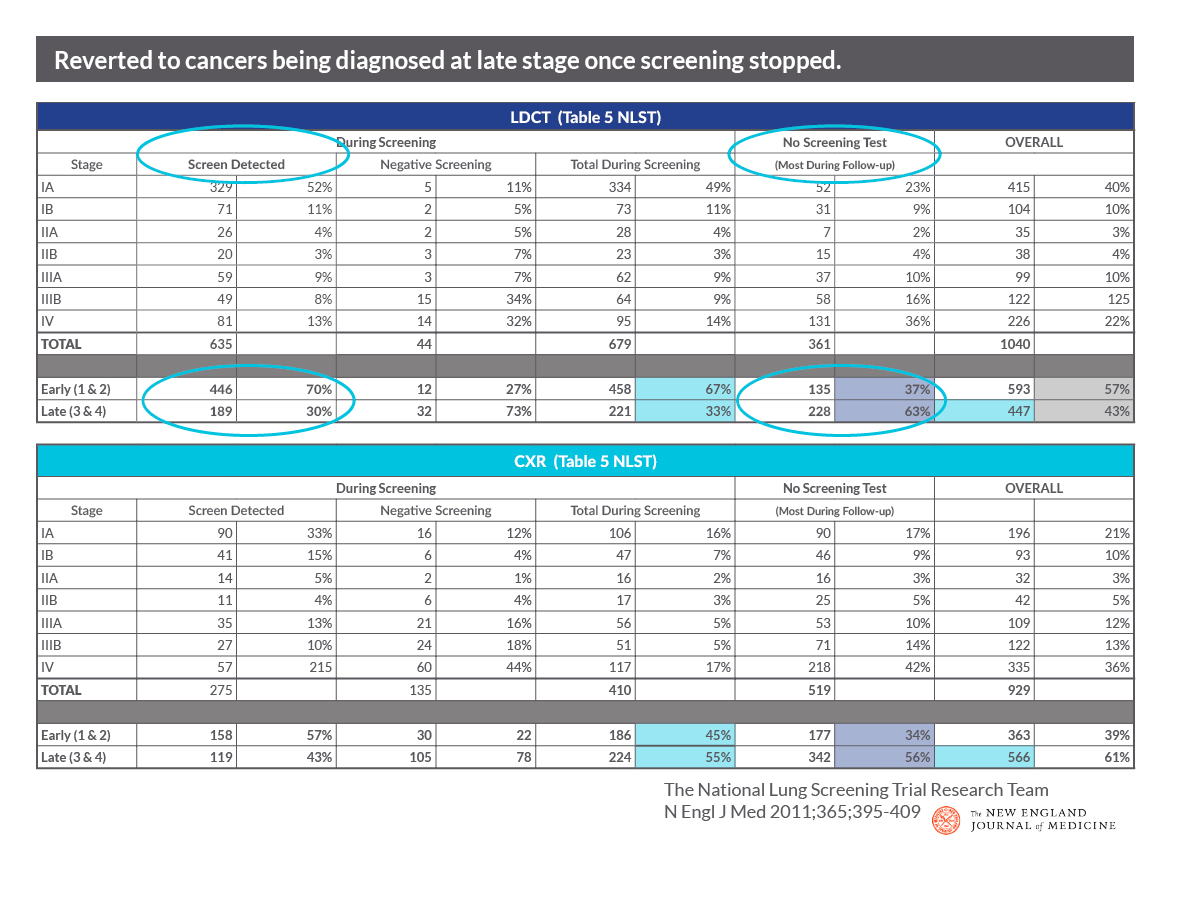 Societies and Organizations:
Comparison of Benefits and Harms of 3 Controversial Cancer Tests
Expected Outcomes When 1,000 Men Aged 55-69 Years are Screened With Prostate-Specific Antigen Testing Every 1-4 Years for 10 Years
100-120 men will have at least 1 false-positive result.
110 men will be diagnosed with prostate cancer.
29 men will develop erectile dysfunction as a result of treatment.
18 men will develop urinary incontinence as a result of treatment.
0-1 deaths from prostate cancer will be prevents.
Source: Adapted from the 2012 US Preventative Service task Force recommendation statement [10].
Click to View Table:
Comparison of Benefits and Harms of 3 Controversial Cancer Tests
Expected Outcomes When 1,000 Women Aged 40-49 Years Are Screened Annually Eith Mammography for 10 Years
510-690 women will have at least 1 false-positive result.
60-80 women will have a false-positive result that leads to a biopsy.
23 women will be diagnosed with breast cancer.
11 or fewer women will be overdiagnosed with breast cancer.
0.1-1.6 deaths from breast cancer will be prevented.
Source: Adapted from Welch and Passow [18].
Click to View Table:
Comparison of Benefits and Harms of 3 Controversial Cancer Tests
Observed Outcomes After 6.5 Years of Follow-up, per 1,000 Participants Among Individuals Who Underwent 3 Annual Screenings with Low-DowsComputed Tomography
365 Particpants has a t least 1 false-psitive result.
25 participants had a false-positive result leading to an invasive procedure.
3 participants had a false-positive result experienced a major complication of a procedure.
3-5 particpants were overdiagnosed with lung cancer.
Approximately 3 deaths from lung cancer were prevented.